Boris Johnson news live: 'Road will run out' for PM, Keir Starmer says
Table of Contents Key PointsWe're wrapping up this live blog for today – thanks for…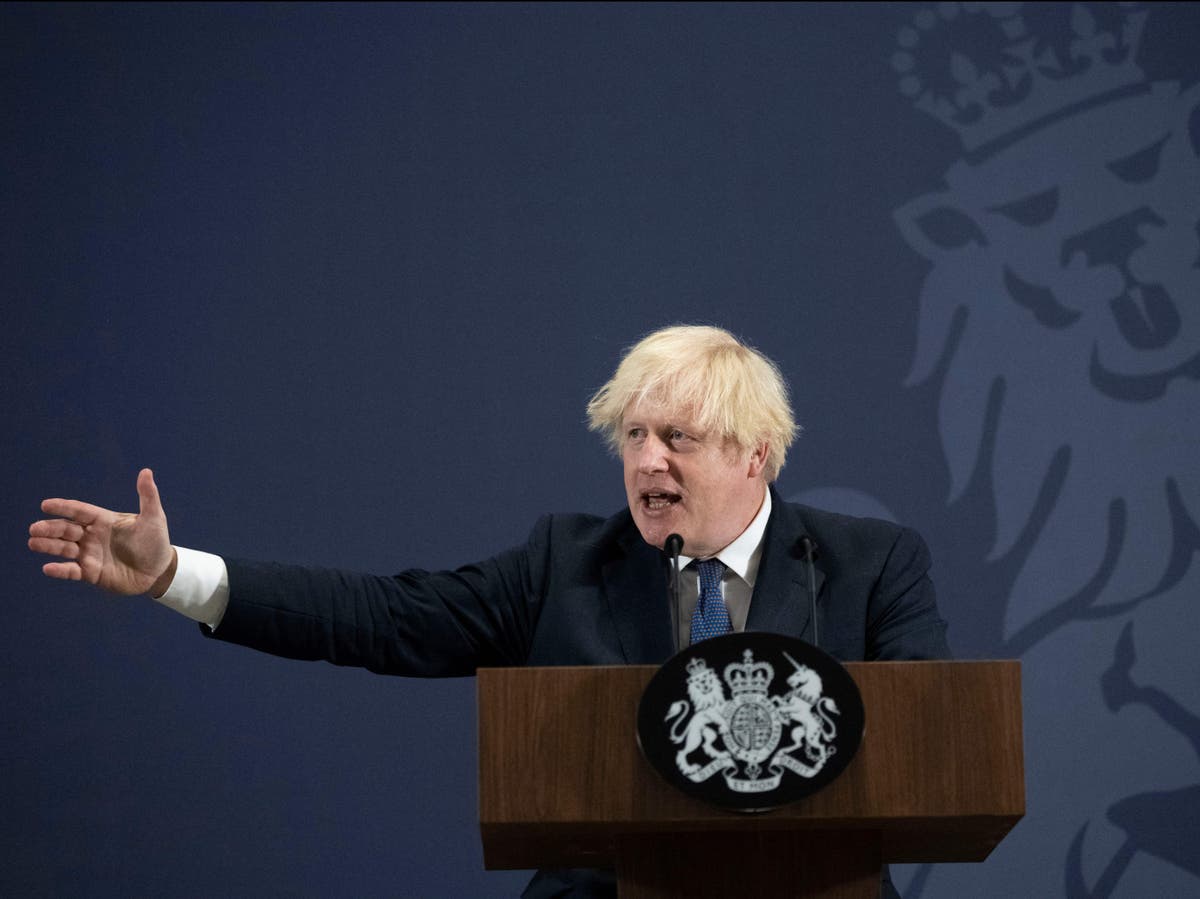 Labour MP ordered to leave Commons after saying Boris Johnson has 'lied over and over again'
Sir Keir Starmer has predicted that "the road will run out" for Boris Johnson as the British public believe in "integrity, honesty and accountability", with the Labour leader hinting at the possibility of anti-Tory alliances with other parties ahead of the next general election.
Claiming that the prime minister had been "really lucky" with the success of the vaccine rollout and furlough scheme during the pandemic, Sir Keir suggested that with most people now jabbed and the social protection scheme winding down, public attention would soon turn to other aspects of Mr Johnson's record.
It came as Labour's deputy leader Angela Rayner accused the government "cover up" for the second time in two days, after the government rejected a request for a search of Matt Hancock's private email account, which Downing Street has admitted he used for official business.
Ms Rayner had on Thursday criticised an official review into the Greensill scandal – which despite finding that a "privileged few" have disproportionate access to Downing Street, suggested the current lobbying system "worked well" – as "a classic Boris Johnson cover-up and whitewash to protect the government".
Meanwhile, the Police Federation of England and Wales has taken the unprecedented step of voting – "overwhelmingly" – that it no longer has confidence in the home secretary Priti Patel, branding the bitterly contentious pay freeze for officers earning more than £24,000 the final straw.
Nick Adderley, the Chief Constable of Northamptonshire Police, called the pay freeze "an insult", adding: "Over the past 18 months I have seen officers punched, stabbed, shot, persecuted and ridiculed whilst attempting to implement confusing, rushed and ambiguous legislation, in order to protect the public and, rightly, the NHS, only to be ignored when it comes to a pay settlement."
1627053204
We're wrapping up this live blog for today – thanks for following here.
If you'd like to read more live coverage from The Independent, my colleagues Akshita Jain and Conrad Duncan are providing rolling updates on the coronavirus pandemic, as figures suggest that one in 75 people in England are infected with Covid-19.
You can find more of our political output here.
Or else keep scrolling to read the day's events, as we reported them.
Andy Gregory23 July 2021 16:13
1627022818
Good morning, and welcome to The Independent's live coverage of UK politics. We'll be using this blog to provide rolling updates on the latest news from Westminster and beyond.
Andy Gregory23 July 2021 07:46
1627023218
'Road will run out' for Boris Johnson, Keir Starmer claims
Sir Keir Starmer has warned that "the road will run out" for a "really lucky" Boris Johnson after the public are widely vaccinated and the furlough scheme winds down.
"The point I'm making is that the two things that people are most concerned about in the last 18 months, as I say their health and basically their job, have been covered by either vaccine or furlough. We're coming to the end of those," the Labour leader told ITV's Calling Peston podcast.
Sir Keir suggested that the British public will be ready to punish the prime minister by the time of the next general election, which he believes the prime minister will call in 2023 "before all of his broken promises catch up with him".
"I don't buy into this argument that character just doesn't matter," Sir Keir said.
"I do think that in the end integrity honesty and accountability do matter and I think there will come a point at which the road will run out for Johnson on this."
Andy Gregory23 July 2021 07:53
1627023900
Britain heading for biggest cut to social security since WWII, think tank warns
Issuing a stark call for the government to rethink its plans to scrap the £20 universal credit uplift, the Joseph Rowntree Foundation has warned that Britain is heading for the biggest cut to the basic rate of social security since the creation of the welfare state at the end of World War II.
New analysis from JRF shows how damaging the changes will be to working families – who make up the majority of those who will be affected by the looming cuts to universal credit and the working tax credit.
In the JRF's illustrative scenario, a family with three children, where one adult is working full-time, and the other is working part-time, living in a medium cost area, would be left £150 per month below the poverty line if the planned cuts go ahead.
My colleague Adam Forrest reports:
Andy Gregory23 July 2021 08:05
1627024391
Police Federation 'no longer has confidence' in Priti Patel
Branding a bitterly-opposed pay freeze for police officers "the final straw", the Police Federation of England and Wales says it no longer has confidence in Priti Patel.
Labour claimed the home secretary's position was "untenable" following the unprecedented move by the body representing rank-and-file officers.
In response to the freeze – which will hit officers earning more than £24,000, with an annual rise of £250 for those earning less – the Police Federation said its National Council had "overwhelmingly supported" a vote of no confidence in Ms Patel.
Andy Gregory23 July 2021 08:13
1627025029
Labour dubs Greensill lobbying review 'a cover-up'
Angela Rayner has described an official review into the Greensill lobbying scandal as "a classic Boris Johnson cover-up and whitewash to protect the government".
The report commissioned by Boris Johnson from lawyer Nigel Boardman found that financier Lex Greensill enjoyed "a privileged – and sometimes extraordinarily privileged – relationship with government".
However, the report found that, despite "strong" lobbying from David Cameron and Greensill director Bill Crothers – a former senior civil servant – the system "worked well", as "ministers and civil servants made the proper analysis of the products being offered to them and did not allow their judgment to be influenced".
Responding to the review, Ms Rayner that "the rules that are supposed to regulate lobbying are completely unfit for purpose and require radical and immediate overhaul".
Andy Gregory23 July 2021 08:23
1627026028
'I can see no other outcome than major food shortages,' says production chief
The UK food industry is at "crisis point", according to the founder of the 2 Sisters Food Group – one of the country's largest food producers.
Ranjit Singh Boparan said the so-called pingdemic was "masking" other issues, including Brexit-related shortages and Covid troubles, and warned the government must act or face the "most serious food shortages that this country has seen in over 75 years".
"No-one could possibly have predicted that this toxic cocktail would come together at this time," Mr Boparan said.
"It started with the pandemic – and in the last week or so with pingdemic, but since May this year the operating environment has deteriorated so profoundly I can see no other outcome than major food shortages in the UK.
"Supply of chicken and turkey is under threat. Our retail partners and the wider supply chain have worked together closer than ever before to ensure we retain food supply and this is of huge credit to everyone. But we are at crisis point."
The government has introduced emergency measures which it says will protect food supplies in face of the pingdemic, allowing thousands of workers to avoid the need to self-isolate if identified as a contact of a coronavirus case.
Andy Gregory23 July 2021 08:40
1627026890
Inside Politics: Covid isolation exemption for key workers and police have 'no confidence' in Patel
This morning's Inside Politics newsletter from my colleague Matt Mathers opens with the fact that MPs are heading back to their constituencies for a well-earned rest as parliament breaks up for summer recess.
"What could possibly go wrong while they're away?" he asks.
You can sign up here for this free daily newsletter – or read below with Independent Premium.
Andy Gregory23 July 2021 08:54
1627028329
Former Labour veteran Dennis Skinner's name is currently trending on Twitter – after Dawn Butler followed in his footsteps in being kicked out of the House of Commons, accusing Boris Johnson of having "lied to this House and the country over and over again".
After refusing to withdraw her remarks, the Brent MP was ordered to leave the chamber for the remainder of the day.
Labour MP ordered to leave Commons after saying Boris Johnson has 'lied over and over again'
Andy Gregory23 July 2021 09:18
1627028480
MPs' pay could rise above public sector workers under watchdog's proposals
MPs could get a pay rise above other public sector workers from next year, according to proposals set out by the independent watchdog which sets salaries.
My colleague Adam Forrest reports that the Independent Parliamentary Standards Authority (Ipsa) has proposed that it is given new powers to vary the annual pay for MPs "below or above" public sector pay.
News of a pay freeze for tens of thousands of public sector workers sparked outrage this week, while it emerged the 3 per cent pay rise for doctors and nurses will come out of the existing NHS budget.
Andy Gregory23 July 2021 09:21